Groove a Straight-Through Swing-Path with the New Slot It Golf Swing-Trainer. Use Red Poles for Irons and Black Poles for Woods.

Hit it straighter and cleaner with the correct swing-path and angle-of-attack.
"Best in Class Patented Driver, Woods and Irons Design."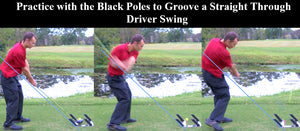 Video: Learn more and see the swing-trainer in use
Video: Create a Better Straight-through Driver Swing with the Black Poles
Free Slot It Golf Instructional Videos
Feedback from using the Black Poles will help you groove a better on-plane swing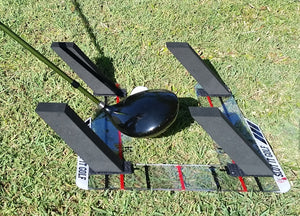 - All on-plane swingers return to 45 to 50 degree shaft impact angle regardless of height. Do this consistently and you will hit the ball straight and clean.
- There is a small gap between the shaft/head and poles so a solid swing returning to between 44 and 52 will miss the poles.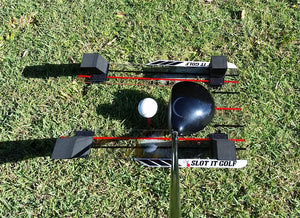 - An over-the-top or overly inside-out swing-path will send the poles flying - thereby giving instant feedback for you to adjust naturally to a better swing-path with subsequent swings.
- For left & right handers.
The Red Poles will help you find the perfect Slot for your arms and club to swing in
- The red poles are 62 degrees - a standard 7 iron angle. You can go as low as a 4 or 5 iron if your swing is well honed.
- You can practice with all four poles, two poles or none at all (just the base), and, with or without a ball.
- You can also use base and poles for practicing chipping and pitch shots. See videos on free videos page for other uses, progressions and instruction.
- 8 Tethers with each unit. Tie the tethers to the base so they don't fly away when struck. 4 needed, 8 included (plus instructions).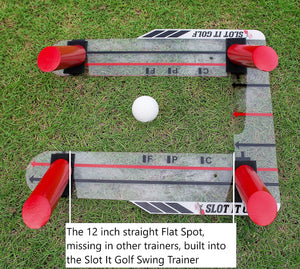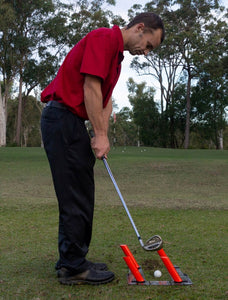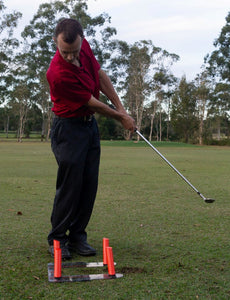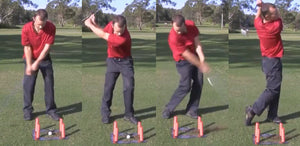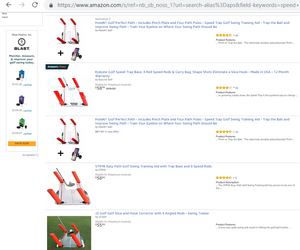 Irons-Only Base & Poles Swing-Trainers are Outdated. Slot It's Patented Driver, Woods, Irons Design supersedes them
Please, click around the internet and you will see the common Speed Trap/base & red poles irons-only swing-trainers everywhere (they come from the same factory!)
Pictured above is a screenshot of the Speed Trap and copycats on Amazon. They are solid but they could be better - as they only allow for practice with a 5 iron & higher.
This inbuilt limitation is why we went to work, designed, tested and made a better Swing-Trainer designed for all clubs - from Driver to Hybrids/Woods to Irons.
See the comparison table below.
Amazon Customer Feedback on the New, Slot It Golf Swing Trainer - Including a Review from a past Speed Trap user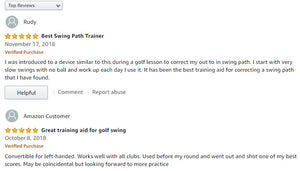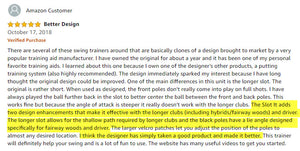 100% Money Back Guarantee
This trainer is well made, strong, and with practice, will help you groove a better swing path and golf swing. To ease any concerns you may have, if you purchase and you are not a fan of your Slot It Golf Swing Trainer, contact us, request a refund, ship the trainer back to us and we will refund you your money.
Use the contact form if you'd like to ask a question.
Cheers,
Anthony Procopis - Slot It Golf Creator